reViSiT is an award-winning tracker that plugs into your VST host (e.g. Cubase), enabling a fluid tracker user experience that couples a powerful music notation with the advanced features of digital audio workstations, such as sequencing, audio recording, video synchronisation, mixing, effects, mastering, scoring and more.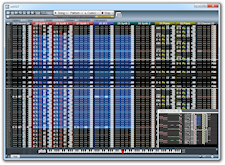 Building on the celebrated design of Impulse Tracker 2 and drawing on research into creative flow, reViSiT adds many unique features not found in other programs, designed to get you interacting with your music faster and more directly, offering new levels of focus and control in digital music.
Sequencing and tracking is now possible in a single work. Use the recording, video, and scoring features of your sequencer, or turn to reViSiT for fine control of a musical part, before mixing it all together in the host.



reViSiT is designed to provide a user friendly introduction to both writing music and tracking, with dedicated features and tutorials to help get you started, plus more in-depth documentation when you're ready to go deeper.



reViSiT goes beyond the standard tracker experience - and even further with the exclusive features of reViSiT Professional:
hi-definition subrow editing
quad and surround sound (5.1)
advanced audio bus outputs
pattern layers and browser
standard MIDI file import
pattern commenting
midi-triggered patterns